A 35-year-old Fort Dix prisoner woke up in the middle of the night because he couldn't breathe. He was drenched in sweat and begged the prison staff to help him. Instead, he said he was told to "tough it out."
The prisoner, who didn't want his name published for fear of retaliation from prison staff, later tested positive for COVID-19. He's been in a quarantine unit with dozens of other sick men for the last three weeks. 
"That one night was scary, I thought I was outta here," he said. The New York City native, who has spent a decade behind bars on drug charges, said he can't taste or smell, and initially felt drained and unable to walk. He said the only medical care he's received is a mandatory temperature check, where everyone is forced to line up and wait.
"These guys are sick and they want you to stand in line for an hour," he said. 
Nearly 240 inmates and 18 staffers inside Fort Dix in Burlington County, NJ  have tested positive for COVID-19 -- the second worst outbreak in the federal prison system. The sharp rise in cases that began last month has prompted a dozen U.S. lawmakers in New Jersey to demand answers from the Bureau of Prisons about its testing and other safety protocols at Fort Dix. 
Listen to Karen Yi's report on WNYC:
Prisoners and their family members have also raised alarm about the lack of medical treatment for COVID-positive inmates. They've described prisoners banging on their doors for hours to get medical attention. Others say they're only given Tylenol for their symptoms and are rarely seeing a doctor or a nurse. 
"He can't get any medical help. He can't do anything. He has no control over what's happening to him at all," said Karen Gasper, 54, whose son, Chris, tested positive for COVID-19. She said her son—who was convicted on drug charges— has bronchitis and is coughing up blood but hasn't been examined by a doctor. 
"I feel helpless," she said. 
Fort Dix is a sprawling compound about 30 miles from Philadelphia. Once used for military training, its dormitory-style barracks house about 2,700 hundred low-security prisoners with about 300 men in each building, who share bathrooms and mostly live in 12-person rooms. Fort Dix's outbreak is the latest to haunt the BOP's handling of the pandemic. Across the country's federal prisons, more than 3,000 inmates and 1,000 staffers are currently sick. More than 140 prisoners have died from the virus, although no deaths have been reported at Fort Dix. 
BOP spokesman Justin Long said in a lengthy statement that inmates who test positive are placed in medical isolation and any areas they reside in are thoroughly cleaned. The agency said prisoners with acute medical needs are transferred to a local hospital and while the agency can't discuss medical conditions for specific inmates, they provide "appropriate treatment" to all prisoners in line with Centers for Disease Control and Prevention guidelines.
But family members and prisoners told Gothamist/WNYC that's not happening. 
"There's nobody cleaning the bathrooms. There's nobody cleaning the toilets," said another prisoner who did not want his name published, fearful it could hurt his chances of home confinement. He only has a few months left on his sentence on a fraud conviction. "They're shooting by the hip and they're praying nobody dies."
In testimonies collected by prisoner advocates, inmates said they were left for hours in rooms with others even after they tested positive. Some said they didn't receive any soap or hand sanitizer. Prisoners said they did receive cloth masks, which BOP said are mandatory for prisoners and staffers. 
Fort Dix reported its first case among staff on March 30th and its first case among inmates on April 7th. Cases surged to more than 40, prompting the ACLU of New Jersey to file a class-action lawsuit in federal court calling Fort Dix a "COVID-19 deathtrap." A judge dismissed the case. 
Cases quieted down over the summer until buses of prisoners from a federal facility in Elkton, Ohio, arrived in waves starting in late September. Of the 300 Elkton inmates, 17 tested positive for COVID when they arrived according to court records from one of the many cases filed by inmates seeking early release.
But prison officials said there was "no evidence" the Elkton transfer contributed to the mass cases in one building where 218 out of 231 inmates tested positive, the records show. Officials said the Elkton inmates were kept in separate quarantine units.  At the time, visits to the prison had resumed and weren't suspended until mid-October. Staffers are also not tested by the prison, though the prison said it would offer voluntary testing this week.
Fort Dix was reporting 59 cases on October 29th. The next day, cases nearly tripled. 
"The same failures of action by the BOP that resulted in the outbreak back in May have resulted in a second outbreak now. And this one, by all accounts, is even worse," said Tess Borden, staff attorney with the ACLU. She said the BOP needs to universally test all its prisoners to properly mitigate the spread of the virus. 
BOP statistics say more than 1,200 tests have been performed at Fort Dix but it's not clear what percent of prisoners have been tested.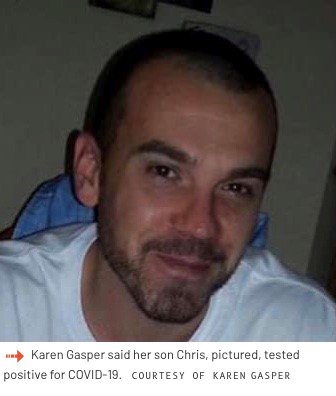 Gasper said her son has been locked in quarantine for nearly a month, in a unit that's infested with gnats.
But every time someone else tests positive and is brought to the unit, the 14-day quarantine clock starts over. She worries about her son's mental health—he hasn't stepped outside in a month.
"It breaks my heart," she said. 
Under the federal CARES Act, prison wardens were directed to review which prisoners could be eligible for home confinement. Fort Dix has approved home confinement for at least 56 prisoners, May court filings show. According to lawyers and court records, at least 18 others have been granted compassionate release due to the coronavirus under the First Step Act, a sentencing-reform law that allows prisoners to ask a judge for early release.
Michelle Harris said her 40-year old husband, Al, tested positive last month but the courts denied him early release twice. He has less than three years left on his sentence, after he was convicted on a gun charge while being a felon. Her husband has diabetes and is obese but she said the prison staff didn't even give him Tylenol to treat his body aches and splitting headaches. Harris said a doctor finally examined her husband this week—10 days after he asked for one. 
"Yes, they are prisoners. Yes, they have committed crimes, but they're not sentenced to a death sentence," she said. "I know that the pandemic is getting worse out here. So I can imagine how it's going to circulate and get worse in there."
Another prisoner residing in the same building as Harris' husband, who also tested positive, was granted compassionate release by a federal judge in New York. Daniel Mongelli was convicted on illegal gambling and murder charges related to his activities with the Bonanno crime family, and has three years left on his 24-year sentence. In the judge's ruling on November 3rd—when just 166 inmates had tested positive—the judge granted Mongelli's petition in light of his COVID-19 infection, underlying medical issues, and the failure of the BOP to "control a COVID-19 outbreak" at Fort Dix.