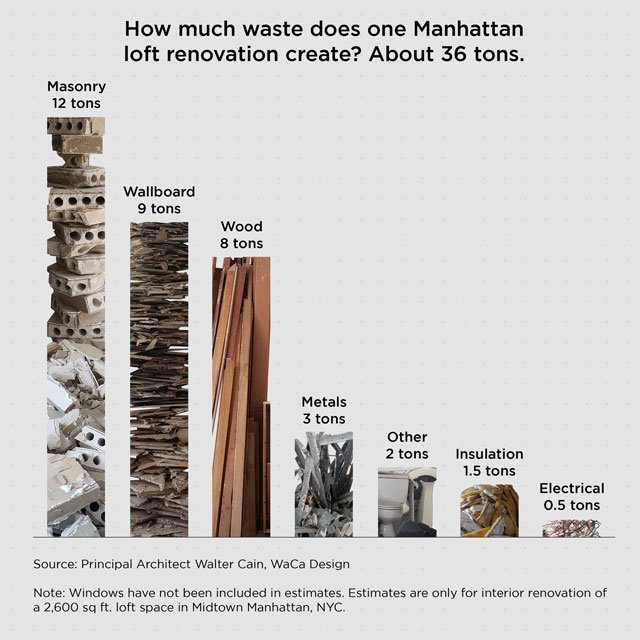 This weekend at Open House New York many people will see the impeccably beautiful architecture the city has to offer. But while most buildings will open up to show off finished designed spaces, one exhibit will show what is often left behind during the building process. Demo Demo, short for "Demolition Demonstration", is a project of WaCa Design displaying all the material removed from a loft renovation at 241 West 36th Street.
Demo Demo invites visitors into "a gutted full-floor Manhattan loft apartment temporarily transformed into a gallery showcasing all the detritus from its renovation. Visitors will wander among artistically sculpted installations of demolished wallboard, electrical conduit, plumbing parts, insulation, windows, cabinets and other materials."
While landfills and solid waste management facilities that the New York Department of Sanitation (DSNY) uses are not necessarily the same that NYC private carters use, the combined amount of waste collected in the city is staggering. The Department of Sanitation alone estimates that they collect about 3 million tons of residential waste, about 1.6 million tons of commercial refuse and 1.4 million tons of commercial construction and demolition debris each year in NYC. "Out of the entire commercial waste produced in NYC, nearly half is construction and demolition" says Dina Montes of DSNY.
Walter Cain, the principal of WaCa Design, hopes to raise awareness about how much material from renovations is being thrown out, using his own project as an example case study.
The view from the Demo Demo loft. (Clarisa Diaz, WNYC/Gothamist)
In a typical renovation of a 2,600 square foot loft, about 36 tons of material would be thrown out, not including the replacement of windows. Cain hopes to see how much of this material he can salvage and repurpose in the renovation design, aimed for completion next Spring. In the meantime he and his team of artists and architects—Karla Karwas, Paul Graves and Wade Schaming—have created an exhibition of all the material that would normally be thrown out as a way for architects to rethink not just technology but how they can reuse building materials.
"We're facing a little bit of a crisis in architecture because of globalization," says Cain, who argues that rethinking the use of materials is one of the best strategies to maintain a distinct sense of place. By committing to reuse building materials, Cain contends that "all of sudden you have to invent something new, unique and unusual. It typically expresses some local history. It's fun because you're not just specifying something off the shelf that looks like everybody else's thing, but you've got something completely unique because it's an invention you had to come up with."
Get more information about Demo Demo @ OHNY right here.