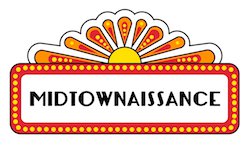 Earlier this year, I had to make several trips to Midtown in the middle of the workday. These were not fun trips, they were to get extensive and expensive dental work done, so naturally, I dreaded both the journey and the destination and then trudging myself back through Midtown, even more dispirited. But in the midst of these long slogs, something unexpected happened: Midtown, shockingly, began to win me over, revealing a unique charm I had routinely overlooked.
As I walked along West 44th Street on one of these trips, I approached an old orange awning. It was weathered, but still popped against that beige-gray that makes up most of Midtown's color palette. It was the kind of awning that harkens back to an older New York, with bronze legs holding it up, flags above, a valet sign below. And it perfectly framed the classic Algonquin signage that was just a little further down the block. As luck would have it, a man in a suit was walking briskly between the two, giving me an all-too-brief feeling that I was in another era. I snapped the photo below and it became the inspiration for this series.
"I think there's going to be a Midtownaissance!" I told my colleagues, sharing my thoughts on how Midtown wasn't that bad, after all. None of them believe me.
I wasn't surprised. Midtown can be an unpleasant place—the cars, the hordes of people, the Big Chain Energy. It has become so aggressively branded that it's easy to lose sight of any authenticity. It's come to represent the inverse of everything we all love about New York City.
In most of our minds, Midtown has been reduced to a shitty mall with an even shittier food court, with nothing to offer except overcrowding, stress, scammers, and overpriced paninis. But it's all of that which needs to exist in order to make us appreciate the hidden gems. There's something surreal and special about ducking out of the neon chaos and into the garden of Barbetta. Or stepping through the door of a classic haunt like Monkey Bar, just as Isadora Duncan, Babe Ruth, Ava Gardner, Frank Sinatra, Marlon Brando, Tallulah Bankhead, Joe DiMaggio, and Tennessee Williams all had.
Don't want to shell out $24 for an Old Fashioned? For free, you can appreciate the old theater marquees, the streetcart vendors, the art deco skyscrapers, the grandness and glitter and gaudiness and grit that somehow all coexist in this beautiful mess of a town. It's actually a pretty great tableau when you start to peel back the layers of wallpaper and unearth a little bit of that authenticity. You can find anything you're looking for in Midtown (and yes, plenty that you're not), and it's all crammed together in a delirious, often overstimulating way that really makes you feel like you're somewhere, even if you want to run out of that somewhere as fast as possible once your meter runs out.
Listen, Midtown has long been a blemish, but the city's flaws are what make this city perfect. Anyway, have you even seen the East Village lately? Be sure to drop by the new Marshalls!
This week, we're going to explore what so many of us are not seeing anymore: The Good Midtown. It exists.
To clarify the boundaries of Midtown, I went to the New York Public Library's Map Division and confirmed that... no one is ever going to agree on Midtown's borders, particularly because it has become so personalized for each of us. I refuse to lump Chelsea into Midtown, but many maps will bring Midtown all the way down there, and even to 14th Street—don't get me started on Midtown South!
For this series, I told contributors to loosely follow the boundaries of the Encyclopedia of New York City, in which Midtown is defined as "the center of Manhattan, roughly bounded to the north by 59th Street, to the east by 3rd Avenue, to the south by 34th Street, and to the west by Eighth Avenue." It wasn't always the central, buzzing hub that is today, however. The book points out, "Beginning in the 1920s it became New York City's central business district, eclipsing Lower Manhattan. This was in large part due to the presence of Grand Central Terminal and the numerous subway lines there." And so began the chaotic scene that continues to develop today.
Through personal essays, comics, history, interviews, and more, we're going to examine another side of Midtown. Have a favorite tiny little corner of the neighborhood, or a favorite memory or restaurant or shop or bar or bench or bookstore? A place to go when you find yourself there? A favorite lunch counter? A piece of Midtown history you love to tell people? Contribute to the love in the comments (or use the hashtag #Midtownaissance on your socials, we may be sharing some contributions later this week).