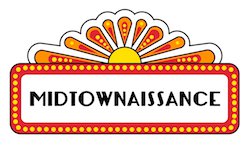 As a native New Yorker, you think it would have been my birthright to walk through the world with innate disdain for anywhere between 34th Street to 59th Street. Someone born in Forest Hills, raised in Queens Village, and who grew up hanging out everywhere from Corona to SoHo is clearly aware that the one street they don't cut down is 42nd and the only set of stairs you don't pop a squat on glows red.
Except that, like many other facets of my life, my mother had a say.
From the time she was a teenager, back in 1979, my mother Loriann developed a fondness for taking the 6 train from the Bronx into the city and exploring every corner of Manhattan her feet could take her. If there was a department store around, she'd be thumbing what's new on the sales rack. If a wave of people crowded the streets, she'd be people watching. If there was ground to be covered, from 34th Street to Lower Manhattan, she'd be walking around and taking in the sights.
"When I was a student at Hunter [College], I got to see how the city was," she told me when I asked her how her love of Manhattan started. "And I used to walk around the Garden when I went to see the Knicks play, when I was 18, 19... That's when my love for the city started."
"When I grew up, the tourists weren't here," she continued, drifting off into memory. "It was the old Times Square, with all the X-rated theaters. The people were different then, everyone was doing their own thing. And it wasn't so crowded, in the late '70s and early '80s." Inquiry about her favorite part of Midtown specifically brings on another dreamy answer, a verbal stroll down memory lane. "Over there [on 34th Street], near the Garden, I like," she said matter-of-factly. "I can just sit and enjoy the sights."
Exploring Manhattan was a pastime my mom maintained even when she became a mother, her solo strolls becoming a party of three in the late nineties. Back then, my sister Kenda and I toddled across Manhattan for the Pride Parade, the March of Dimes, and my dad's basketball games at the West Fourth Street Courts. We got older and ran rampant through the Toys 'R Us in Times Square and Books Kinokuniya on Sixth Avenue. Growing up, all of Manhattan had potential, but Midtown was my playground; a trip into "the city"—where the buildings were tall, and Bubba Gump and Olive Garden existed on streets where the lights were always on, and families from far and wide also buzzed in excitement—was peak enjoyment.
That excitement carried over into my teenage years in the mid-2000s, despite the wonder of it all beginning to harden thanks to a growing amount of tourism and adolescent indifference: summer days in Bryant Park, back-to-school shopping at Forever 21 and Aeropostale in Union Square, birthdays at Red Lobster on 42nd Street.
The biannual family trek across the city, however, was the one outing I never tired of. It was a journey that began slowly and out of the blue—our shorter days trips over the years one day became strung together, back to back to back–then morphed into a permanent fixture we rustled up the energy for roughly twice a year. 2004 was the year my mom, my sister and I started exclusively hitting the pavement during our city visits, opting to skip the subway to fully enjoy the sights and sounds of the city. The build-up was an exciting one, starting with the 15-minute drive from our Queens Village home to Jamaica-179th Street, the first stop on the F train in Queens. My sister and I rarely took the train at that point, only taking the city bus to junior high and back home, so we were a mass of giggles and excitement plopping down on those subway seats, wondering aloud during the 15 stop ride what we wanted to accomplish during our day in the city. We always started in Times Square and slowly made our way to the West Village, then to SoHo, then to Little Italy, our feet flying further and further south as the years rolled by. But Times Square and its surrounding streets, in all of their crowded glory, was always where it began.
Like any good mother, mine humored me as I, all of 12 years old, perused the racks of the Fifth Avenue Urban Outfitters with a small White Gummy Bear Jamba Juice smoothie in hand. Midtown, stuffed with designer and tweenage-aimed stores and eateries not found in suburban Queens, was the perfect place for me to develop my own tastes and interests at that age and the little fashionista in me took full advantage of that, from the Seventh Avenue Aeropostale to the J.C. Penney in Manhattan Mall.
Our Times Square-to-Little Italy journey across the city happens roughly twice a year, but once the holiday season rolls around, we unabashedly get into the Christmas spirit and play tourist right in the heart of Midtown. The excessively bright lights suddenly soften; the flow of wide-eyed visitors down narrow sidewalks, usually always packed too close for comfort, is, for a little while, just right. We join them, all on a mission for the same thing: Christmastime in the city a la Miracle on 34th Street and Serendipity.
We always begin our journey at Rockefeller Center, with a view of the ice skaters below us and the famous tree towering above us. Despite the overwhelming wave of families moving through and around the tiny space that is Rockefeller Center, I find peace in their smiles. Peace that my family and I are all here during this particular time of year. Us kids, despite being adults now, all know to gather together for a photo when my mother flails one hand, holds up her phone with the other and laugh-yells a humorous command for us to stand together.
Over at the Bryant Park Christmas market, the spirit of the season shines bright as well. They've got their own towering, illuminated tree — nowhere as grand as Rockefeller Center's, but worthy of a photo nevertheless. We always take our time in the market, poking our heads into the stalls to check out which quirky socks and chocolates will get my cousin Shana through the winter. A cup of Max Brenner's thick hot chocolate is mandatory at this point, and it's around this point that we always seem to catch the Zamboni making its grand entrance to clear the ice rink before we leave. The crowd, on the rink or not, pauses to watch the machine gliding across the frozen scratches. There's an odd sense of satisfaction and excitement as it moves up and down, left and right. It's when we manage to break away from its trance that we leave, headed to arguably the star of the Christmas journey show: the department store windows.
The annual seasonal story set-up in the Macy's Herald Square store has anchored our winter Midtown trek. It started with my sister, my cousins and I quickly glancing at each window as we passed Macy's, and quickly became something we intentionally sought out. These days, we play the interactive games set up in the windows that move the story along, as we continue our own. We bustle inside, struggling to keep our footing among the tourists, and find the giant, glittering "Believe" sign on the first floor. We ascend the 1950s-era wooden steps, to the highest floors, searching for "I Love NY" ornaments and oversized snow globes that are home to grinning snowmen.
Today, I don't roll my eyes as often when a happy hour in Midtown is suggested, and I don't pretend to be above cutting through 42nd Street to get to the subway. I know that Christmas wouldn't feel the same without the holly jolly rendition of our twice-a-year journey, that I still stop to gaze at glowing, video billboards, that I willingly stood for 12 hours in Times Square to ring in 2015, and that it was only seven years ago that dinners in the heart of that hustle and bustle were the definition of a good time. Midtown never did and never will "suck" for me.
Asia Ewart is a culture and lifestyle journalist — follow her on Twitter @asiaewart.